Landscaping | Landscaping Contractors | About Us | Tailored Landscapes | Lincoln, Nebraska
ABOUT US
Since the inception of Tailored Landscapes LLC in 2003, we have worked to build our company into one which provides unique and personalized landscapes to set apart your home and office.
A Horticulture Degree from the University of Nebraska-Lincoln (with an emphasis in Landscape Design) provides Jake Sittner with an educational background that helps bring his unique ideas to your living and working spaces.
Kristi Sittner uses her landscaping experience and Horticulture degree (with an emphasis in Science) to grow new varieties of nursery stock for Tailored Landscapes LLC. Kristi has great vision and creativity when it comes to forecasting popular new plants and putting together annual arrangements in decorative pots, seasonal decorations and winter arrangements.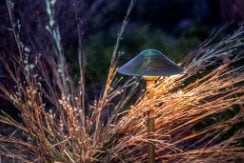 As we enter our 20th year of business, we feel that experience in practice and continued education are the foundations of a solid company in any field. We still strive to study, learn and travel for the benefit of our customers. In addition to the previously mentioned Horticulture degrees, Jake is a Certified Nurseryman by the Nebraska Nursery and Landscape Association. In 2010, Jake was elected to the board of the Nebraska Nursery and Landscape Association (NNLA).